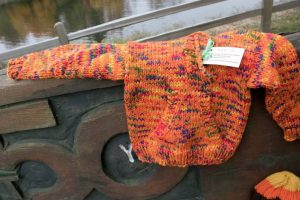 By: John Love – Sentinel & Enterprise PUBLISHED: 
From left showing off some the coats already collected is co-owner of Wachusett Mountain Ski Area Jeff Crowley, Kevin MacLean of Our Fathers' House in Fitchburg, co-owner of Wachusett Mountain Ski Area Carolyn Crowley Stimpson, Evangelidis, President of Warmerwinters David Roth and Nicolas Formaggin from the Leominster Spanish American Center.
On Tuesday, while standing at the base of Wachusett Mountain along-side many community partners, Worcester County Sheriff Lew Evangelidis announced the kickoff of the 2019 Sheriff's Annual Winter Coat Drive for Worcester County. The Sheriff's Coat Drive is an annual event that provides new or lightly-used winter coats to families in need throughout Worcester County and is a collaborative effort between the Sheriff's Office, Wachusett Mountain Ski Area, Worcester County Reserve Deputy Sheriff's Association, Warmer Winters Knitting Club, Twin City Cleaners of Dudley & Independent Cleaners of Fitchburg. Nearly 4,000 winter coats are distributed every year.