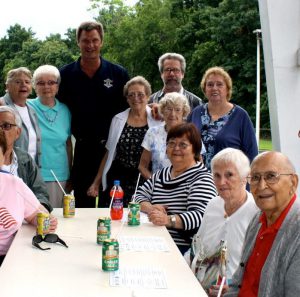 Shrewsbury – Worcester County Sheriff Lew Evangelidis has announced the Sheriff's Annual Senior Picnic will be held at SAC Park located at 348 Lake Street in Shrewsbury on Saturday August 18, 2018 from 11:00am to 3:00pm. Admission is free for all seniors.
"As Sheriff, hosting the Annual Senior Picnic is one of the great highlights of the year. This year's Senior Picnic will be a wonderful fun filled day to give back to the seniors of Worcester County who have given so much to their communities over the years." said Evangelidis.
The Sheriff's Annual Senior Picnic has become the biggest senior picnic event throughout the region and is sponsored by the Worcester County Reserve Deputy Sheriff's Association including donations by many local businesses. In addition to a traditional BBQ menu, the Sheriff's Picnic will include a fun afternoon of complimentary bingo games, raffle prizes and music entertainment.
For more information on the Sheriff's Senior Picnic, please contact the Worcester County Reserve Deputy Sheriff's Association at:
508-796-2638 or dostiguy@worcestercountysheriff.org